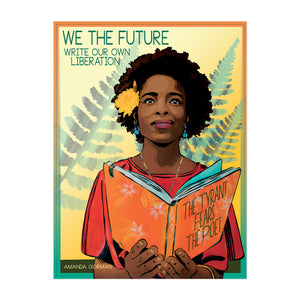 WRITE OUR OWN LIBERATION OPEN EDITION POSTER
Regular price $20.00 Sale
An 18x24" open edition offset print featuring youth literacy activist Amanda Gorman by Kate DeCiccio will be given to anyone who donates $20 to help us move activism through art. 
We The Future are young leaders at the forefront of change, and they're building organizations and movements all across the country. They are are drafting and passing legislation. They are working on climate justice, criminal justice reform, voting rights, immigration justice and immigrant rights, disability justice, gun reform, queer rights, and literacy, and they are changing the world. 
Donations made to Amplifier are tax-deductible to the extent allowed by law. Amplifier is registered under RCW19.09. You may contact the Washington Secretary of State at 800.332.4483 or visit sos.wa.gov/charities for more information.