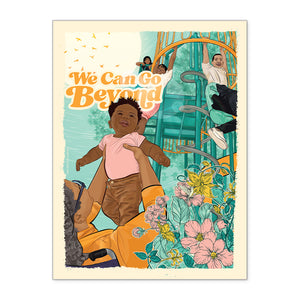 WE CAN GO BEYOND FINE ART PRINT
Regular price $60.00 Sale
An archival quality (18x24) fine art print on thick 100% rag featuring the work of Rommy Torrico will be given to anyone who donates $60 to help us move activism through art.
We believe that ending poverty is within our reach, and that we have both the power and responsibility to do so. In order to help organizers and teachers vision an economically just society for everyone, the Opportunity Agenda and Amplifier created an original campaign to spark more expansive conversations around the intersection between economic justice and systemic racism, housing insecurity, income inequality, and other major issues.    
* THESE FINE ART PRINTS START SHIPPING FEBRUARY 1st * 

Donations made to Amplifier are tax-deductible to the extent allowed by law. Amplifier is registered under RCW19.09. You may contact the Washington Secretary of State at 800.332.4483 or visit sos.wa.gov/charities for more information.