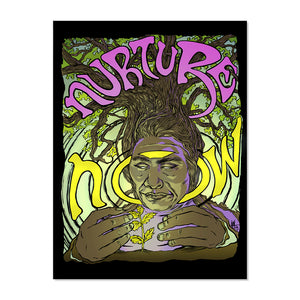 NUTURE NOW FINE ART PRINT
Regular price $60.00 Sale
An archival quality (18x24) fine art print on thick 100% rag featuring the work of Weshoyot Alvitre will be given to anyone who donates $60 to help us move activism through art.
Open edition fine art prints are printed on demand - please allow up to 14 days for delivery. Thank you for your patience! 
In response to COVID-19, Amplifier launched an emergency campaign with top art curators and public-health advisors from around the world looking for public health and safety messages that can help flatten the curve through education and symbols that help promote mental health, well-being, and social change work during these stressful times.
Donations made to Amplifier are tax-deductible to the extent allowed by law. Amplifier is registered under RCW19.09. You may contact the Washington Secretary of State at 800.332.4483 or visit sos.wa.gov/charities for more information.