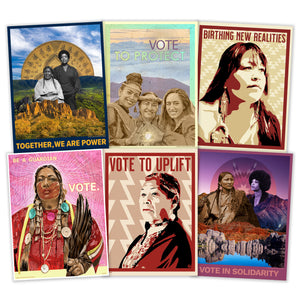 INDIGENOUS PEOPLES' DAY IS EVERY DAY POSTER PACK
Regular price $40.00 Sale
A gift of 6 (unsigned) 18x24" posters created in collaboration with Nia Tero and Illuminative for Indigenous Peoples' Day, featuring artwork by LMNOPI, Mer Young and Gregg Deal, will be sent to anyone donating $40 to help us move activism through art.

This art pack contains AR activated artwork. Download our app and watch this artwork come to life with stories and calls to action.

This campaign reminds people that we are not separate from the land, and that our fates are interconnected, particularly as our globe passes through multiple material crises of our own making, and racial justice and the November elections are top of mind. The campaign also celebrates the vital relationship between Indigenous sovereignty and Black liberation.

Please allow 3-5 business days for order processing. Thank you for your patience!

Donations made to Amplifier are tax-deductible to the extent allowed by law. Amplifier is registered under RCW19.09. You may contact the Washington Secretary of State at 800.332.4483 or visit sos.wa.gov/charities for more information.