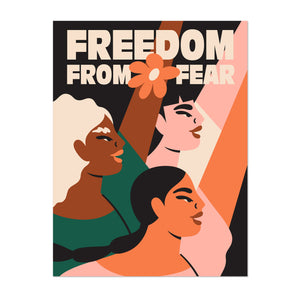 FREEDOM FROM FEAR FINE ART PRINT
Regular price $60.00 Sale
An archival quality (18x24) fine art print on thick 100% rag featuring the work of Camila Rosa will be given to anyone who donates to help us move activism through art.
Open edition fine art prints are printed on demand - please allow up to 14 days for delivery. Thank you for your patience! 
Global Initiative for Justice, Truth and Reconciliation (GIJTR) is a program of the International Coalition of Sites of Conscience that works alongside communities to amplify the voices of survivors and inspire collective action in countries struggling to confront human rights violations. Their message is that in addressing past trauma, we change the future.
Together with São Paulo based artist Camila Rosa, Indonesia based artist Nurul Yaqin and U.S. based artist Thomas Wimberly, we made a beautiful public art campaign consisting of 21 original works that acknowledge the past while building a foundation for a peaceful future in African, Asian, Latin American, and Middle Eastern communities.
This body of work explores the themes of memory and reconciliation and centers the stories of loved ones who survived conflict, as they are indispensable to healing processes across the globe. It demands truth for the missing and the disappeared, and also demands that we listen to, learn from, stand with, and act for survivors.
Donations made to Amplifier are tax-deductible to the extent allowed by law. Amplifier is registered under RCW19.09. You may contact the Washington Secretary of State at 800.332.4483 or visit sos.wa.gov/charities for more information.